Our Lady of Sorrows
Catholic Church
Welcome to the Catholic Community of
Our Lady of Sorrows/Capilla de la Santísima Trinidad
Bienvenidos a la Comunidad Católica de
Nuestra Señora de los Dolores/Capilla de la Santísima Trinidad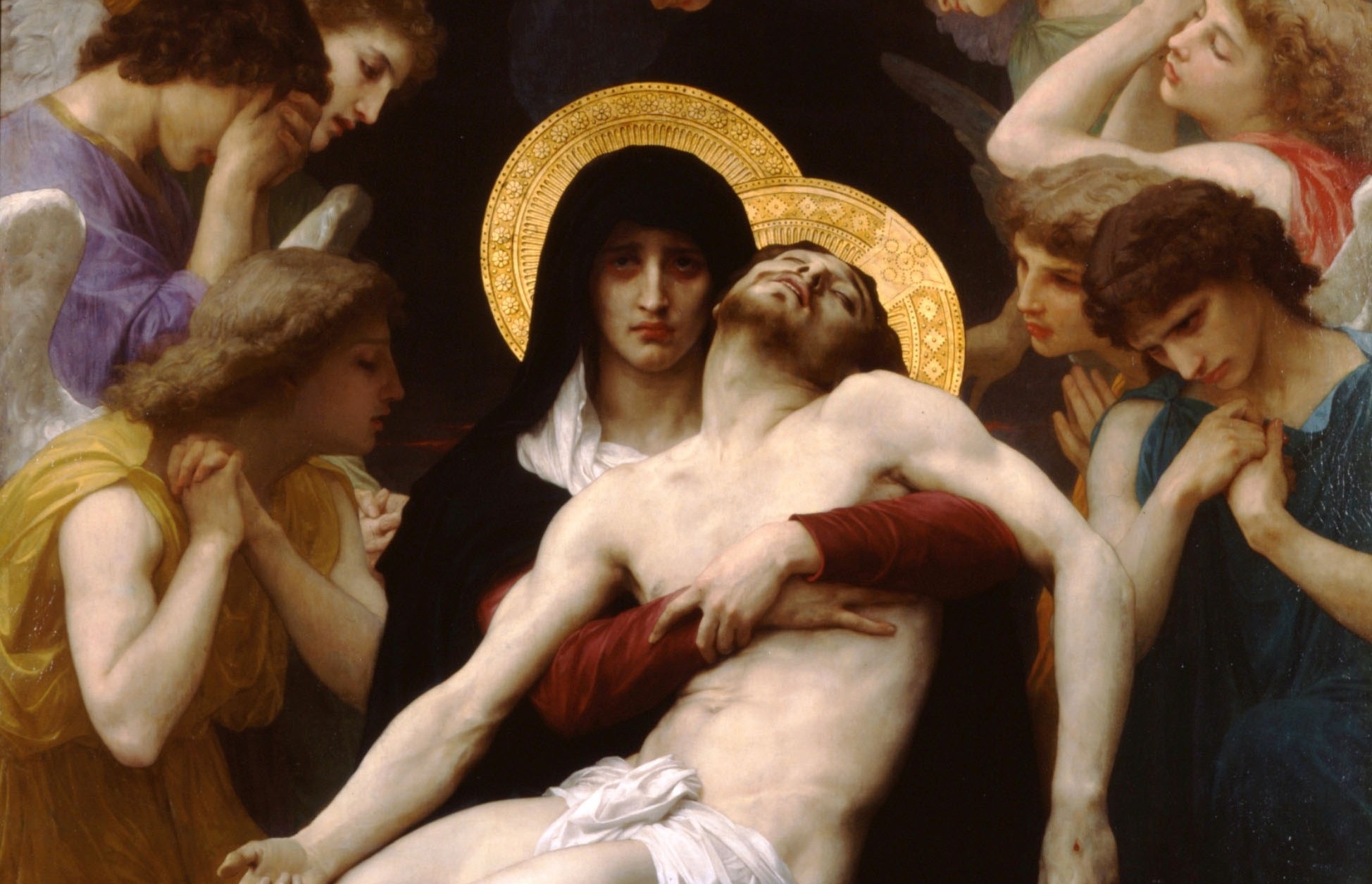 Holy Thursday: Evening Mass at 7 p.m.
English at Our Lady of Sorrows/ Spanish at Santísima Trinidad
Transfer of the Blessed Sacrament afterwards
We invite you to join us for the Living Stations of the Cross at Santísima Trinidad on Good Friday April 12th beginning at 12 Noon at 2901 Pleasant Green. Please bring sneakers or tennis shoes in case the ground is still damp from the recent rain.
Good Friday Celebration of the Passion of the Lord
begins at 12 noon at Santísima Trinidad with Living Stations and then we continue inside with Good Friday Service
Celebration of the Passion of the Lord at Our Lady of Sorrows
begins at 3 p.m.
Remember we fast on Good Friday
Fasting and Abstinence
Fasting is to be observed on Ash Wednesday and Good Friday by all those who have celebrated their 18th birthday and have not yet celebrated their 60th birthday. Fasting means one regular meal at lunch and 2 smaller meals at breakfast and dinner. Abstinence from meat is observed by all from age 14 until death on Ash Wednesday and all Fridays of Lent (Pork, Sausage, Bacon, Venison, Chicken and Turkey are considered meat.) Although people 60 and over are not required to fast, they are still required to abstain from meat on Ash Wednesday and Fridays of Lent.
Ayunar y Abstenerse
Se les oblige ayunar el Miércoles de Ceniza y el Viernes Santo a personas de 18 años y que no han celebrado sus 60 años. Ayunar es comer solamente el almuerzo regular con el desayuno y cena con porciones más pequeños. Se les obliga abstenerse de comer carne el Miércoles de Ceniza y todos los Viernes de Cuaresma, de los 14 años hasta la muerte. (Puerco, Chorizo/Salchicha, Tocino, Rez, Venado, Pavo y Pollo son carne). Por esas personas de 60 años y mayor, no tienen la obligación de ayunar; pero todavía son obligados de no comer carne en el Miércoles de Ceniza y todos los Viernes de Cuaresma.
Easter Vigil in the Holy Night
Mass begins at 8 p.m. on Saturday April 15th
Most Rev. Brendan J. Cahill, Bishop of the Diocese of Victoria
Upcoming Events!
---

---
Mass Schedule
Our Lady of Sorrows
Saturday Vigil:
5:00 PM Spanish
Sunday:
8:30 AM Bilingual
10:30 AM English
1:00 PM English
7:00 AM M,W,TH,F English
TUESDAYS
6:00 PM
SANTISIMA TRINIDAD
Holy Days of Obligation:
7:00 AM, 12:00 PM, 7:00 PM
Santisima Trinidad
No Saturday Vigil Mass
Sunday:
9:30 AM Spanish
11:30 Spanish
7:00 PM Tuesday Spanish
Holy Days of Obligation:
7:00 PM Spanish


Church Bulletins
Click here to view 2016 Bulletins
---
Report Abuse
If you witness, suspect or know of child and/or vulnerable adult abuse,
YOU MUST FILE A REPORT WITHIN 48 HOURS!
Contact Civil Authorities: Department of Family and Protective Services at 1-800-252-5400 or www.txabusehotline.org If the person is in immediate danger, call 911. If Church Personnel Is Involved In Alleged Abuse: Step One- Contact Civil Authorities Step Two - Contact one of the following: 1. Coordinators of Pastoral Care and Outreach: Vicki L. Pyatt, LMSW, (361) 827 7186 or email pastoralcare@victoriadiocese.org; 2. Bishop or Chancellor of the Diocese of Victoria at (361) 573-0828; and Written Allegations Should be Sent To: Office of the Bishop, Diocese of Victoria in Texas, P.O. Box 4070 Victoria, Texas 77903-4070. (Marked "Personal and Confidential")
.